The Victoria Street Market currently has in excess of 200 vendors and stall holders. Our market stocks products including traditional African artwork, Indian spices, seafood, bags, brassware, traditional clothes and much more. A "must-see destination"!
Have you ever dreamed of sashaying in a sari, getting tattooed with henna or tucking into an 'atomic bomb' curry? Satisfy your yearning for burning… and a lot more… at Durban's oldest market.
The Victoria Street Market is rather like stepping into another world, with its blend of all things Indian and African. Spices and incense rent the air in which more than 200 stalls display their wares.
The haunting strains of Indian music mingle with the chatter of stallholders and excited bargain hunters, pouring over brass ornaments, African carvings, finely crafted Jewellery and aromatic spices.
Shoppers can choose from a wide variety of African and Asian artwork made from materials including stone, wood, brass and animal skins as well as fragrant spices and a wide variety of tobacco products.
The Seafood and Meat Market offers a variety of the freshest and tastiest meat products; from succulent seafood to an interesting assortment of poultry and red meat products including Angelfish, Crabs, Prawns, Crayfish, Calamari, Trotters, Sheep heads, brains, goat meat., cornish hens, offal and roosters.
The Victoria Street Market is situated in central Durban amongst many other historically significant structures including The Juma Masjid Mosque, The Emmanuel Cathedral, The Early Morning Market and the Ghandi Library. These sites played significant roles in the struggle that formed the foundation of South Africa's democracy.
30 Minutes Free Parking in
Fish Market Lane

MON – FRI: 8AM – 5PM
SAT: 8AM – 4PM
SUN: 9AM – 3PM On  People Mover Bus City Loop
Operates Daily 5am – 10pm
We look forward to welcoming you.
A nation's culture resides in the hearts and in the soul of its people.
Address
151/155 Bertha Mkhize Street
Durban Central, Durban, 4037
KwaZulu Natal, South Africa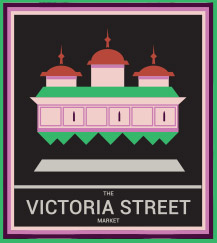 Email Us
admin@victoriastreetmarket.co.za